Sacred Heart University, Luxembourg, Jack Welch College of Business & Technology
Home ›
Sacred Heart University, Luxembourg, Jack Welch College of Business & Technology
Sacred Heart University Luxembourg Jack Welch College of Business & Technology
Sacred Heart's Jack Welch College of Business & Technology has been in Luxembourg for over two decades offering graduate-level programs tailored to the needs of the working individuals. The MBA, AACSB accredited, is acknowledged by the Luxembourg Ministry of Higher Education and well respected by the business and finance community.
Since 2012, we offer a remunerated full-time MBA with internship designed for young graduates from abroad and from Luxembourg. We have students from over forty different countries and our well-qualified faculty and staff give our program a truly international flavor that so many other business schools cannot offer.
Branch of an American Business School

Sacred Heart University in Fairfield, CT (USA), began offering business education in 1965, just two years after its founding. The University's College of Business was later named after the legendary former Chairman and CEO of the General Electric Company, John F. Welch who continues to provide valuable support. The Luxembourg branch of the College of Business was established in 1991.
Closely connected with the business community of Luxembourg
At this business school, we closely work with the corporate community. This is not only reflected in our teaching staff who are accomplished scholars and experienced business executives coming from the US main campus and from Luxembourg but also in our active Board of Regents that consists of CEOs from a number of major companies in Luxembourg.
Conveniently located in the Chamber of Commerce Luxembourg-Kirchberg our facilities are dynamic and provide many online learning and research tools. We also feature a library for students to use as a quiet place to study or project teams to meet for coursework.
The AACSB accreditation and the Grand Ducal Decree
In January 2007, the Jack Welch College of Business & Technology earned its accreditation by the AACSB International – the Association to Advance Collegiate Schools of Business. It joined an elite group to which fewer than 5 percent of business schools worldwide belong. AACSB International is considered the premier global accrediting body for schools that offer undergraduate, master and doctoral degrees in business and accounting.
In August 2007, Sacred Heart University received the Grand Ducal Decree which provides the recognition of our diplomas in Luxembourg.
The Princeton Review includes Sacred Heart University in its guides "Best 379 Colleges - 2015 Edition" and "Best 295 Business Schools - 2015 Edition".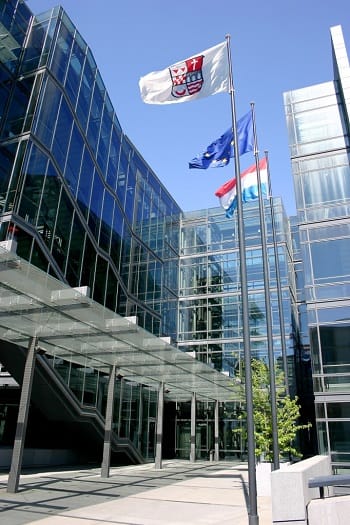 * Accredited by the Ministry of Higher Education & Research of Luxembourg

* Ranked #4 Most Innovative Universities in the Northern USA by U.S. News & World Report
* Listed in the Princeton Review 'Best 267 Business Schools' – Outstanding School – 2018 Edition
* Listed in the Top 100 ranking by Bloomberg Business Review


* Ranked in the T.H.E. (Times Higher Education) 501-600 Listing

Locations
Luxembourg City
Sacred Heart University
Address
Sacred Heart University
7, rue Alcide de Gasperi
c/o Chambre de Commerce - Bâtiment B, 1er étage

L-2981
Luxembourg City
,
Luxembourg District
,
Luxembourg
Accreditations