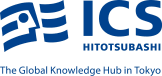 Hitotsubashi University Business School, School of International Corporate Strategy
Home ›
Japan ›
Hitotsubashi University Business School, School of International Corporate Strategy
About us
Hitotsubashi ICS is a graduate business school located in central Tokyo, Japan. In 2018, Hitotsubashi ICS was ranked as the #1 business school in Japan (QS Rankings).In 2000, a group of innovators in business education founded Hitotsubashi ICS as Japan's first global, all-English MBA program. Today, it is the global face of the public Hitotsubashi University Business School (HUB) and offers both degree and non-degree programs. Hitotsubashi ICS is well known for academically rigorous general management curricula, uniquely enhanced by deep in-house expertise on Japanese business and economy and unparalleled access to business innovators in Japan and around the world.
In the entrepreneurial spirit of its origins, the Hitotsubashi ICS classroom pushes the frontiers of business education. Through its custom signature courses, continuous renewal of core curricula, and personalized career development services, the school commits to each individual student's learning experience. Its MBA program boasts a 3:1 faculty-to-student ratio, and its EMBA program a 1:1 ratio. Hitotsubashi ICS faculty speak and write on a wide range of topics for academic, business, and policy audiences. The academic environment is geared towards educating global thought leaders who understand and the multi-dimensional role of business in society.
Programs
Hitotsubashi ICS students develop leading-edge business skills through hands-on learning, exploring alternative business models and frameworks, and formulating personal philosophies of business leadership. Students spend considerable time working together across courses.
MBA
Hitotsubashi ICS offers both one and two-year full-time MBA programs. The School's MBA career services are strong: in 2017, placement within 3 months after graduation was 96% (of which 72% in Japan).
EMBA
The highly customized 12-months part-time Executive MBA program explores the attributes and challenges of both Japanese and western management practices. The highly practical management-focused curriculum is conducted in a blended learning experience, with in-classroom courses at our Chiyoda Campus in Tokyo, virtual lessons, and three global immersion weeks.
DBA
The Doctor of Business Administration (DBA) program prepares its candidates for thought leadership in global business, revolving around guidance in writing the DBA dissertation.
Locations
Tokyo
Hitotsubashi ICS
Address
2-1-2 Hitotsubashi, Chiyoda-ku, Tokyo, Japan
101-8439
Tokyo
,
Japan