About us
Leading the Way in Global Business Education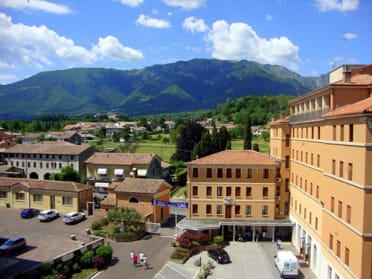 For two decades, CIMBA has educated students from 50-plus countries and is proud to have more than 10,000 alumni living and working around the world. At CIMBA, students immerse themselves in a wide range of rigorous courses, including innovative leadership and development programming, while living amidst the Venetian countryside in one of the most popular travel and study destinations in the world. Our students' business and cultural immersions begin from the minute they step on campus. We share a campus in the heart of Paderno del Grappa with the Istituti Filippin, one of Italy's top boarding schools where students K-12 are educated. Although our students have different classes and live in different residence halls, they often get to know one another through a host of events designed to build cultural awareness.
Small and Personal by Design.
Our study abroad courses have a 25:1 student-faculty ratio, and the rest of our programs have fewer than 18 students per class. Our study abroad and MBA programs are backed by the top-ranked, AACSB-accredited University of Iowa Tippie College of Business. All of our courses are taught by English-speaking professors from top universities throughout the United States and Europe. Many of them have earned prestigious degrees from universities such as Cornell, Columbia, Duke, Harvard, John Hopkins, the London School of Economics, Oxford, Princeton, Yale, and more. They've also lived, taught, and worked around the world in global leadership positions such as senior vice president for the Federal Reserve Bank of Philadelphia and Global Operations Financial Expert for Hewlett Packard.
The CIMBA Story: Creating New Opportunities Abroad
CIMBA's story is one of entrepreneurship and adventure. Nearly 25 years ago, CIMBA President and Founder Al H. Ringleb had a vision for creating a unique international MBA program that would open new opportunities abroad for students and faculty. The idea was to draw students from around the world to pursue their MBA, while giving faculty from top American colleges and universities an opportunity to gain international experience teaching business courses at an accredited program in Europe. As surprising as it may seem, in 1985 when "Dr. Al" first had this idea, there were few to no personal development opportunities available for faculty despite a rapidly growing interest in global business.
Expanding from MBA to Study Abroad, Executive Programs, and More
While debating how to move forward, Dr. Al, who holds a law degree from the University of Kansas and a doctorate from Kansas State University, began teaching and coordinating international programs at Texas A&M University. In the early 80s, he traveled extensively to and from Europe and the Soviet Union in search of business and academic partners for what would become CIMBA. Soon, businesses in both Germany and Italy, along with Clemson University, opened the door for the idea to become a reality. CIMBA was born and within a few years, the curriculum expanded beyond MBA programs to include study abroad opportunities for both graduate and undergraduate business students. By 1999, as the program moved to the University of Kansas, CIMBA announced its undergraduate program would remain focused on business, but would grow to offer courses for students majoring in communications, journalism, engineering, and more.
Developing the CIMBA Leadership Institute
As CIMBA expanded, Dr. Al became more intrigued with the field of neuroscience and the way the human brain works. He saw the implications this work could have on building personal development and leadership competencies within the CIMBA environment, and it led him to move the program to the University of Iowa in 2008. Since that time, Dr. Al and his team have continued to develop cutting-edge innovations in this area, including a series of groundbreaking tools developed at CIMBA by the CIMBA Leadership Institute. Today, these innovations are infused into all of CIMBA's programs, with the goal of assisting and guiding students to learn more about themselves as they seek to become better managers, leaders, and entrepreneurs. This primary focus on the student and his or her personal journey remains integral to the CIMBA experience. That's why when Dr. Al isn't teaching undergraduate, MBA, and executive students, he can often be found in the CIMBA Leadership Institute talking with students about new ideas in leadership and development, or working with them one-on-one as a personal coach.
CIMBA Backed by Consortium of Top U.S. Universities
CIMBA partners with a consortium of 36 of some of the top universities in the United States to create a network of universities that actively encourage students, faculty, and staff to seek personal development and growth through international, cross-cultural academic experiences. This consortium, led by the University of Iowa, is a non-profit organization committed to international business, communication, and global leadership development.
The consortium also helps CIMBA draw from the best that the member universities have to offer in terms of faculty and student participants. CIMBA study abroad, MBA, and executive students are taught largely by Consortium faculty from institutions such as the University of Iowa, University of Kansas, University of Colorado, University of Nebraska, University of Delaware, and many more. Having the consortium also makes it easier for CIMBA students to transfer credits back to their home institutions, because there is already a formal academic partnership in place. However, it's important to note that students and faculty from schools outside of the consortium are also welcome to participate in CIMBA.
Consortium Member Schools
University of Alabama – Birmingham
University of Georgia
University of Oklahoma
University of Alabama – Tuscaloosa
Iowa State University
Purdue University
University of Arizona
University of Iowa
Rutgers University
University of Arkansas
Kansas State University
San Diego State University
Brigham Young University
University of Kansas
University of South Carolina
Clemson University
Louisiana State University
University of Tennessee
University of Colorado
University of Michigan
Texas Tech University
University of Connecticut
University of Minnesota
Virginia Tech University
University of Delaware
University of Missouri
University of Virginia
Florida State University
University of Nebraska
Western Michigan University
University of Florida
North Carolina State University
West Virginia University
Georgia State University
Oklahoma State University
University of Wyoming
Locations
Venice
CIMBA Italy
Address
CIMBA Italy
Via San Giacomo 4
31017 Paderno del Grappa (TV)
Venice
,
Veneto
,
Italy
Iowa City
Address
The University of Iowa
108 PBB Suite C300
Iowa City, IA 52242-1000
Iowa City
,
California
,
USA