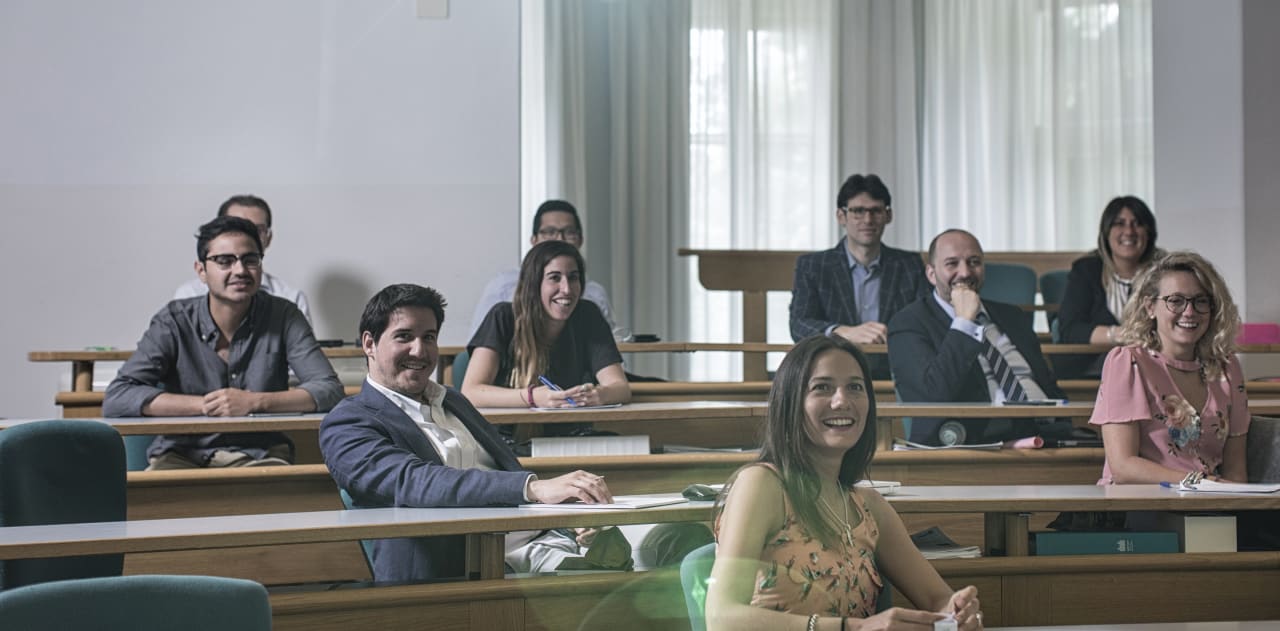 MBA in
Full-time MBA in International Business
MIB Trieste School of Management

Key Information
---
Campus location
TRIESTE, Italy
Study format
Blended, Distance Learning, On-Campus
Tuition fees
EUR 25,000 / per year *
Application deadline
01 Sep 2023
Earliest start date
27 Sep 2023
* (22% VAT included). For the year 2017 are available scholarships to about deduction of the tuition fee.
Introduction
Full-time MBA in International Business
A global certified MBA

Expand your mindset, exploit your potential, and change the course of your life and career.
Our MBA in International Business will have a far-reaching impact: you start to change yourself to change the world around you.
This AMBA-accredited Master of Business Administration program combines recognized academic excellence with a hands-on, applied learning model that focuses on international management, and pays close attention to leadership dynamics and personal skills.
This real-world approach helps you develop creative problem-solving skills and confidence.
Hybrid Formula
Online? In-person? Our Hybrid Formula lets you choose whether you prefer to attend class in person or online (synchronously).
Thanks to screen sharing, tracking cameras, omnidirectional microphones, and digital whiteboards, our hybrid theatres ensure perfect interaction and a free-flowing conversation between people in the classroom and students online.
Merit-based scholarships are available:
- up to 80% if you attend in the classroom;
- up tp 30% if you attend online.
You may choose the networking experience of being on campus, or you may opt to stay home away from School while attending classes remotely in real-time.
An international experience
With a variety of opportunities for stays abroad including Study Tours in Europe, an Exchange program in the United States or China, and more than 10 countries represented in the classroom each year and an international faculty, the MBA program at MIB Trieste is one of only 4 MBAs in Italy with AMBA Global Accreditation - Association of MBAs, which is recognized in over 80 countries worldwide.
Several international opportunities can be incorporated into the MBA program:
International study tours
Intended for participants of the various Masters, Alumni, and representatives of partner companies. Trips to European destinations may include training sessions and meetings with Top Management in companies or at production sites.
Exchange Study Program
During the second part of the Master, you can choose to continue studying in the United States at Rollins College, or in China at Lingnan College. It is a completely immersive experience, where new professional and networking opportunities often arise.
Why an MBA
A CV that stands out
The MBA is a globally recognized title that enriches your skills and abilities. The Career Services department creates opportunities including professional interviews. Your résumé, with the MIB MBA Master's degree, accredited by the AMBA-Association of MBAs in over 80 countries worldwide, puts you ahead of the rest.
Network
The School puts you in a concrete network: partner companies and sponsors turn to MIB for suitable resources for their teams. Then there is the MIB Alumni Association worldwide: you can find MIB graduates on all 5 continents, colleagues, and friends to rely on for both professional and personal support.
Leadership Dynamics
The MBA is different because it does not stop at technical skills. It also focuses on managerial skills and the important soft skills necessary to become capable, creative leaders, with a global vision.

The accreditations certify the quality of the MBA program in terms of content, profiles of the Faculty members and participants, organizational aspects, quality of services provided, a network of contacts, and career opportunities after the master's.
These accreditations are recognized by all international recruiters.
> AMBA, Association of MBAs: the best global MBA accreditation, that only 2% of the business schools in the world have earned.
> ASFOR: certifies the best MBAs and Masters' programs in Italy.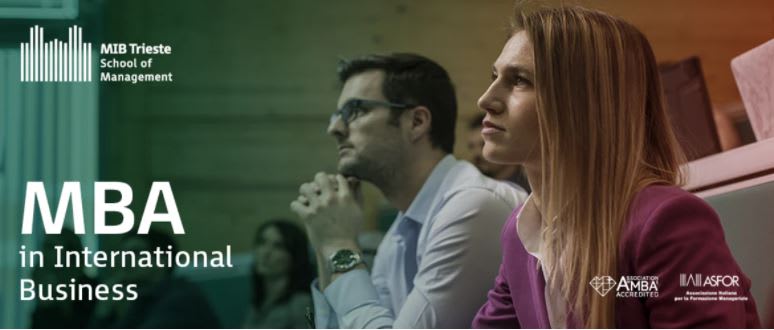 Career Opportunities
Among the main objectives of MBA participants is to improve their career prospects. The School's Career Service starts helping them on the very first day to define their professional goals and implement them.
Growing and Changing: these are the keywords of a Master's degree like the MBA. Move up in the company, change sectors and organization, start a new business, many opportunities can open up at the end of the Master.
Curriculum
The MBA in International Business is designed for motivated professionals and offers both full-time and part-time options.
But there is only one MIB Trieste MBA: same faculty, same curriculum, same MBA. The learning is equal across the two MBA formats, and you can choose your own pace to complete it.
The same passion, motivation, responsibility, and active participation are required.
The 12-month full-time option is intense and fast-paced. Only 8 months of on-campus or online attendance are expected, followed by on-the-field experiences in collaboration with partner companies.
MBA Curriculum is divided into 3 Phases.
Phase I - Core (approximately October - February)
The first phase of the MBA includes 3 mandatory Core Sections: the General Management courses, the courses of the Major Concentration in International Business, and the Entrepreneurship & Innovation track.
Phase II - Elective (approximately February - May)
After the "Core" courses, participants customize the Master's by choosing one of the Minor Concentrations and a number of Elective Courses.
Phase III - Projects (approximately June - September)
Development of individual or group Research, Consulting, and Entrepreneurial Projects, in collaboration with companies. This phase also includes opportunities for Study Exchange Programs abroad and the preparation of the Final Project, which will be presented at the Graduation.
To obtain the MBA diploma, each participant must earn at least 70 ECTS credits (European Credit Transfer System). Each credit equates to an average of 25 hours of workload.

Rankings
QS Global MBA Ranking 2023
It cannot be denied that an MBA investment is significant; so it goes without saying that the financial aspects of an MBA degree are critical to prospective students in terms of immediate costs, recouping of investment, and long-term career possibilities.
At MIB Trieste School of Management, we know this very well, and we work daily to improve our graduates' opportunities and career prospects.
In this regard, we are delighted to reveal that our MBA has just been assessed as the second-best in Italy and among the top 30 in Europe for its Return On Investment and one of the best globally for the Breakeven Period.
MBA in International Business ROI
In the QS Global MBA Ranking, the 10-Year ROI indicator calculates the average return on investment based on many factors, such as the cost to attend the program, the living costs, the salary increase, and career advancement after graduation.
This indicator is designed to show which Business Schools provide their students with the best Value for Money.
Based on this factor, MIB Trieste MBA is ranked #2 in Italy and #30 in Europe for its ROI, achieving an overall score of 80 out of 100 globally.
This confirms that the MBA in International Business is a highly valuable investment, providing graduates with concrete benefits for their future careers.
Throughout their careers, MBA graduates will benefit from the skills, experience, competencies, and network acquired during their MBA, so it is reasonable to assume that the ROI will continue to grow over time.
MIB Payback period at the top globally
The MBA payback period is the time it takes for MIB Trieste Alumni to recoup their financial investment for the MBA, using the salary increase generated by the investment itself.
To calculate the payback period, QS Ranking looks at tuition fees plus incremental living costs, salary forgone while studying, set against salary plus bonus achieved upon graduation.
The QS Report reveals that the payback period of the MBA in International Business is only 21 months.
In this regard, the overall score is almost 100 out of 100.
This result is among the best in the world (the best performance worldwide is 19 months to pay back).
Scholarships and Funding
Merit Scholarships
MIB Trieste School of Management along with partner companies rewards talented candidates: partial scholarships (maximum 80% for particinpants attending in the classroom and 30% for those attending online) are paid out every year to the best applicants.
Apply for up to 3 (non-cumulative) Merit Scholarships. The first step is to fill out the Application form online.
What are the characteristics that influence how scholarships are assigned?
Curriculum Studiorum
Experiences abroad
Previous professional experience
Quality of the motivational letter
Selection tests and interview results