Global MBA in
Global MBA
Gisma University of Applied Sciences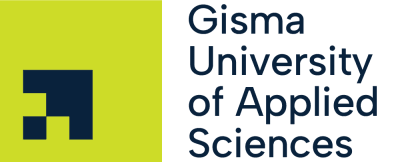 ---
Campus location
Berlin, Germany
Tuition fees
EUR 18,000 / per year *
Application deadline
Request info
Earliest start date
Jan 2024
* 1-year program - €18,000 / Course; 2-year program part-time - € 18,000 / Course. Up to 33% discount available
Introduction
This internationally recognized degree will help you build the knowledge and networks you need to achieve your career goals.
This AMBA-accredited program helps you build hard skills in essential fields of management, such as strategic decision-making, operations, and business control, value generation and protection as well as HR management and organization design.
Invest in your career and study this flexible MBA as a 1-year full-time program or 2-year part-time course. Benefit from a highly international network of students from over 40 countries at Gisma University of Applied Sciences in the Berlin area.
What sets the Gisma Global MBA apart is that you will be ready to meet the demands of an uncertain world. A strong critical thinking approach will equip you with the most important leadership competencies and soft skills to advance your international career in fields such as strategy, finance, marketing, and operations.
Why Gisma?
AMBA accredited: 2% of educational institutions worldwide hold this accreditation, which was awarded for our global MBA. A sign of excellence in education
88% of Gisma students secured a job before graduation by utilizing our dedicated career services and strong industry connections.
Alumni Success: An astonishing 77% enjoy a salary ranging from €55k to €60k
SAP partnership advantage: Gain a competitive edge through Gisma's partnership with software giant SAP. Access cutting-edge tools, resources, and internship opportunities boosting your job prospects and
positioning you for success in the digital economy.
The most international university: 90+ nationalities of students, alumni, and staff represented. Expand your network
Excellent student services such as a dedicated Career Centre, visa support and accommodation team
Graduates will be entitled to apply for an 18-month post-study residence permit to take advantage of career opportunities in Germany
Over 25 corporate partners we work closely with such as Zalando, Amazon, Siemens
Over 20 years of teaching and inspiring students to reach lifelong goals
Savings, incentives, and flexible payment plans available
Free beginner German classes
Programs taught 100% in English - the language of international communication
Why Germany?
Germany has one of the lowest unemployment rates in Europe
One of the best Graduate starting salaries in Europe, with a growing economy
Germany is the most popular option for international students looking to study in Europe; It is recognised for its high-quality education, and you can experience this with Gisma
Germany ranks in the top five countries in the world by the number of international students
Berlin, Germany's Capital is the largest city in the EU and has a thriving business scene, offering a range of job opportunities to young professionals and graduates
Germany is well known for its rich history in culture and arts, offering students an enriching international experience whilst combining world-class education from our globally ranked partner institutions.
Ideal Students
Who is the program for?
This program is perfect for professionals in any field to want to boost their international career and progress into a senior management role or venture into entrepreneurship. This MBA covers all aspects of general business and offers excellent networking opportunities, which will help you succeed in your chosen career.
Curriculum
How will you study?
Gisma University of Applied Sciences supports flexible and individual learning by applying a systematic hybrid learning scheme.
You will spend part of your lectures in class at our Berlin-Potsdam campus. These face-to-face phases are complemented by e-learning sessions. You will work on cases, reflect on readings, take part in online discussions, and participate in group exercises and projects. This variety of learning methods is part of our unique teaching strategy, which includes student-centered pedagogy, project-based learning, collaborative learning, and personalized coaching.
Program Structure
Strategy, operations, and business control
International Strategic Management & Innovation
Operational and Project Management in a Digital World
Economics & Society
International Accounting
Value generation and protection
International Marketing
Finance & Risk Management
HR Management and Leadership
HR Management and Organization Design
Management of People in Cross-Cultural Environments
Summer School in digital competencies
Electives in Cloud Computing, Big Data, Cyber Security from Amazon, Alibaba & Co.
Scientific and Methods Competence
Research Methods and Scientific Work
Master Thesis
Duration
12 months (full-time) or 24 months (part-time)
Rankings
Accreditations and rankings
Gisma University of Applied Sciences is AMBA accredited, which is an honor shared by only 6 business schools in Germany and 2% of all business schools worldwide. The prestigious AMBA accreditation represents innovation and excellence in education.
Gisma University of Applied Sciences also has a long history of working with partner universities in Europe and has successfully delivered partner programs accredited by AACSB, AMBA, EQUIS, and EPAS.
Program Outcome
What will you learn?
This MBA covers a broad range of topics from all areas of business management. This includes international strategic management and innovation, international marketing, human resource management, corporate finance, and entrepreneurship. Further, you will learn how to evaluate the economic environment in which businesses operate with an awareness of complexities, interdependencies, opportunities, risks, and consequences while being able to balance diverse stakeholder perspectives. The innovative and hands-on approach focuses on innovative, ethically balanced, and socially responsible decision-making in a business context.
Scholarships and Funding
Partial Scholarship
Up to 33% discount available
Regional discounts are available for CIS, MENA and LATAM, and SEA regions. Please contact us for more information.