MBA in
Master of Business Administration - PMU, UK
Exeed College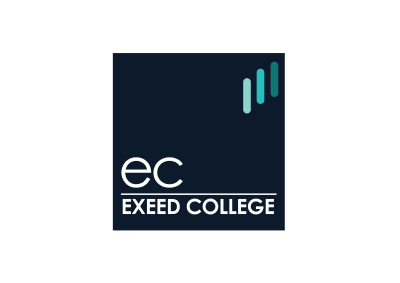 Key Information
---
Campus location
Sharjah, United Arab Emirates
Study format
Distance Learning
Tuition fees
AED 36,000 / per course *
Application deadline
Request info
Earliest start date
Request info
* Avail of 10% OFF if you wish to pay your fees in one lump sum.
Introduction
Program Overview
Through this program, learners will gain knowledge and skills in leadership, change management, management accounting, finance, and people management. It is designed to help you gain additional skills in consulting, entrepreneurship, decision-making, and design and research management of business tasks, also focuses on research methods to demonstrate learners' ability to investigate issues of their own choice over a significant period.
The program is aimed at professionals with backgrounds in engineering, law, business, humanities, education, and general administration, emphasising obtaining a UK MBA from a prestigious university. The PMU MBA offers a myriad of opportunities. Learners can continue their current work-life and are getting a unique opportunity to grow in their organisation while they are learning new skills in the MBA. The PMU MBA expands your global horizons and provides the essential foundation to fast-track change in your career. Finally, you can extend your network across cultures and countries. During the MBA, you get the chance to attend lectures by industry and academic talents to try out management and strategy concepts developed by industry experts.
The program also offers an opportunity for triple certification. The importance of getting triple certification ensures that the MBA program is of the highest quality and internationally recognized.
The triple qualification package combines
A postgraduate Level 7 Diploma in Business Management from the Scottish Qualifications Authority (SQA), the UK
An MBA from Plymouth Marjon University, UK
A Chartered Manager status from the Chartered Management Institute (CMI), UK
Program Outline – Part A
SCQF Level 11 Extended Diploma In Strategic Business Management
120 Credits
International Marketing Management
Strategic Management
Strategic Change Management
Accounting For Next Generation Leaders
Sustainability And Business
Strategic Leadership & Hr Practices In Organisations
Program Outline – Part B
MBA PROGRAM
Modules – Research Methods & Dissertation
About PMU
Established in the year 1840, Plymouth Marjon University is one of the prestigious educational institutions in the UK for its reputation and educational quality.
The university aims to be an open, friendly and active community, taking initiatives to meet changing social and economic needs locally, nationally and internationally. It offers a range of programmes from Foundation Degrees & Progression Courses, distance learning to Honours Degrees and Postgraduate study.
Program Outcome
INTERNATIONAL MARKETING MANAGEMENT
This module explores knowledge and understanding of contemporary theories and their applications in the research field of international marketing and management and nurtures originality in developing, applying, and implementing ideas in the areas of international management and international marketing.
Learning Outcomes
Analyse the changing business environment(s) globally and how they pose challenges to marketing management functions in organizations.
Develop marketing plans with the application of appropriate marketing models, tools, and techniques.
Evaluate the processes involved in brand management and how they influence consumer behavior.
Decide how to launch new products/services in a dynamic global marketplace.
This module is designed to help students understand and evaluate various aspects of strategic management in a global context. The module also serves as an opportunity to develop skills for strategic thinking and analysis, leadership, communication, teamwork, and cross-functional integration. Students should be able to synthesize information to make strategic decisions and actions demonstrating awareness of complexity, risk and uncertainty in a dynamic business environment.
Learning Outcomes
Critically evaluate the relationship between strategy, stakeholder expectations and organizational performance.
Evaluate the impact of current and emerging Economic, Political and Cultural factors on the strategic management of an organization.
Formulate innovative business strategies designed to contribute to the success of an organization.
Critically assess different leadership styles in developing corporate values, social responsibilities and managing strategic change.
The goal of studying strategic change management is to acquire an in-depth knowledge about the factors that cause change, the nature and perspectives of organizational change, reactions and resistance to change, overcoming resistance to change and the impact of leadership and human behaviour on change management. In addition to these, theories and models of change management and stakeholder management will be explained in detail. By the end of this course, students will know the basics of strategic change management and its factors. In addition, students will also be able to manage organizational change by monitoring and evaluating the change process.
Learning Outcomes
Critically analyze the nature and context of change in organizations.
Explore the issues and challenges during change management in organizations.
Critically review the impact of leadership and human behaviour on change management
ACCOUNTING FOR NEXT GENERATION LEADERS
This module aims to provide next generation leaders with a level of practical understanding that can be used in the workplace by covering a range of key areas in financial accounting, management accounting and finance in general. The module covers analysis and interpretation of financial statements of contemporary firms, cost classification, investment appraisal and budgeting affecting the financial behavior of an organization.
Learning Outcomes
Critically analyze financial accounting principles to measure bottom line impact and develop competitive strategies.
Critique the relevance and significance of budgeting process, techniques and methods in driving organizational performance.
Evaluate financial statements and business performance using ratio analysis.
Evaluate investment appraisal techniques to support decision-making
Organizations within modern day business are required to redesign their strategies and policies to be aligned with a sustainability agenda. Corporate social awareness is now being seen as a way to address economic, social and ecological issues from a sustainability standpoint, expanding the traditional reach of CSR. Sustainability awareness creates an environment for a more innovative organization and supply chains, with emphasis on biodiversity and closed-loop supply strategies. The module will critically review sustainability challenges and opportunities for organizations globally.
Learning Outcomes
Appraise the multiple dimensions of sustainability for businesses in the context of global challenges.
Critically review, evaluate, and develop sustainability strategies of organizations.
Critically analyze the strategic alignment of the business functions to sustainability.
Critically analyze an organization's global sustainability and your contribution to the impact on global sustainability
STRATEGIC LEADERSHIP & HR PRACTICES IN ORGANISATIONS
The purpose of this module is to discuss and explain the role of strategic HRM and leadership practices in an organization and their influence on the overall performance and competence of the organization.This module is designed to develop an understanding about the contemporary practices of strategic human resource management and the paradigm shift in the approaches and methods related to various functions of HRM like strategic recruitment and selection, strategic leadership, strategic performance management and employee development to name a few. It also highlights the role and significance of leadership styles and practices during the planning and implementation of change in the organization. Upon successfully completing the module, the participants will be able to have comprehensive knowledge about the wider business context in which the manager has to lead, perform, and make effective decisions.
Learning Outcomes
Critically analyze the significance of Strategic Human Resources Management and its changing landscape in organizations.
Critically discuss the impact of Human Resources Management activities on organizational Performance.
Evaluate various leadership styles and practices in organizations
Plan how to implement change in an organization.
RESEARCH METHODS & DISSERTATION
Research Methods is an opportunity for students to demonstrate their ability to investigate issues of their own choice over a significant period. Essentially this is an individual effort, but it is carried out with the guidance and advice of a supervisor. Research is a creative and investigative process that only learners can develop in totality.
Clarifying the terms of the research.
Suggesting areas of reading.
Reviewing the proposed methodology.
Establishing a timetable for the research which also includes initial dates for further meetings between the student and supervisor.
Advising the student about appropriate standards and conventions concerning the assessment.
Providing means of contact in addition to tutorial