EMBA in
Executive MBA
EDHEC Business School - MBAs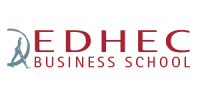 Introduction
The Edhec Executive MBA is a triple-accredited programme from one of Europe's top business schools. It is designed for experienced managers, entrepreneurs and senior executives seeking to experience a professional transformation. The 16-month part-time programme, based in Paris Opera or Lille, will enable you to consolidate your executive-level skills, increase your self-awareness and leadership skills and sharpen your global outlook to drive your organisation's performance in today's challenging and constantly changing business environment.
The Executive MBA (EMBA) experience is a unique and personalised journey designed for experienced professionals, decision-makers, and entrepreneurs seeking personal and professional transformation. The EMBA will empower you to work on yourself and help your career ambitions materialise while gaining new perspectives and insights and building and consolidating a solid understanding of the key business-management aspects and strategic decision-making processes relevant on a local and global level.
Programme Objectives
The EDHEC EMBA is a 16-month part-time programme designed to equip you with the insights, knowledge, and personal resolve to lead the transformation your career and your business need.
Consolidate and extend your executive-level skills and knowledge, enabling you to refine your strategic, financial, and business leadership competencies. Personalise the programme to match your objectives and personal situation.
Challenge your perspectives, develop new ways of thinking, and approach complex issues by building an international network of experienced professionals who enrich the personal and collective experience.
A unique opportunity to reflect, review and refine your approach to leadership and your career. Develop your capacity to lead with confidence and authenticity and receive the support and inspiration you need to achieve your objectives.
Collaborate, Learn, Share
When you join EDHEC Executive MBA, you join a fertile learning community of experienced professionals and business organisations from around the world. We limit our class sizes to ensure that you can benefit from connecting with people from a wide range of nationalities backgrounds, professions and industries but are assured a personalised and high-quality learning opportunity.
Each intake is unique and different but always passionate, committed and diverse. But your class could look like this:
Average age: 39
14 nationalities & 40% international
14.5 years' average experience
If you have 8 years of professional experience, a bachelor degree or equivalent but more importantly a genuine desire to develop the skills and insights needed to shape the future of your business and career then the EDHEC Executive MBA could be the right choice for you.
2 Locations, 2 Intakes, 2 Formats
Intake: You can choose to start your Executive MBA at EDHEC in either October or March
Location: Choose from our Lille Campus or central Paris Campus which each offer a different format to suit your lifestyle and work routine and home/work base (Paris & Lille are easily accessible from Belgium, Luxembourg and Holland by train for example).
Lille Weekend Format: Twice a month Friday to Saturday
Paris Weekday Format: Once a month Wednesday to Saturday
Duration: 16 months
Curriculum
Build Your Strategic Vision
Consolidate and enhance your strategic, financial & business management expertise with the core strategic & business fundamentals, enabling you to see the bigger picture and enhance your decision-making skills
Expand Your Horizons
Broaden your perspectives, build a diverse and international network and gain a deeper insight into emerging markets, different environments and the challenges and opportunities of a connected world. Includes 2 international business trips
Transform360
Transform360 is designed to develop your self-management, strategic, functional and relational abilities. Both a highly personalised and collective journey, it will help you to question, challenge and explore every aspect of your personal, career and leadership development so that you can harness your full potential in your career, in your business and as a leader.
Personalise Your Programme
Tailor your programme to provide new perspectives or go deeper into specific areas that are important to you, your career and your organisation. Choose between electives or the Healthcare Innovation & Technology Track
Make an Impact
Combining high-level, business-relevant academics with action learning, you will apply your learning from day 1 and beyond. The individual Consulting Project is your opportunity to demonstrate your strategic vision & potential to lead transformation focussing on a real-life challenge important to you and your business.
Scholarships and Funding
Scholarships & Discounts
Financing your EMBA
While choosing to do an EMBA is an invaluable opportunity for advancing in leadership roles and reshaping your career, we recognise that financing your EMBA represents a major financial investment, commensurate with the impact that such a programme can have on your future. It requires a substantial amount of planning. Below you will find some details on scholarships and funding options, but do get in touch for more personalised help and advice.
One of the greatest benefits of the EDHEC Executive MBA programme is the diversity of the cohort. Creating a new professional network that you can both learn and be supported and inspired by, makes the experience enriching and rewarding. This is why we have 4 generous scholarship options that help ensure gender equality, cultural diversity, and equity.
Women in Leadership: upt o 40% scholarship (excluding VAT) available to support and promote equality and gender diversity in our class and the boardroom
Cultural Diversity: To support and promote cultural diversity in our class, this scholarship is open to dual nationals and internationals currently working and residing in France. Up to 20% reduction off programme fees (excluding VAT).
International Leaders: For applicants who live and work outside of France, this scholarship is designed to encourage and support participants who are looking to gain and share a truly global vision from one of the leading Business Schools in France and Europe. Up to 30% reduction off programme fees (excluding VAT)
Individual Finance: For applicants who are personally financing the EMBA programme. 15% reduction off programme fees (excluding VAT)
NB: only one scholarship is applicable for a program. If two or several criteria are met, the highest reduction will apply.