Program Description
In a nutshell, our e-Leadership MBA Program curriculum is made in BDS design (business + digital + strategic) and structured around three main standard MBA content competencies: most of the core business MBA (GMP), several of the core technology MBA (ICT) and some key strategic Executive MBA (Leadership) modules. It's meant to provide the best of breed MBA experience (traditional & advanced technology & strategy oriented e-Leadership).
The two-year e-Leadership MBA Program consists of 18 (17 + 1 introductory) Modules exercised in the duration of 40 lecturers led contact hours (lectures) each (total of 720 contact hours). Per each Module Syllabi, in addition to active participation at Module lectures, students will be required to do some coursework on their own (pre-readings, post-reading, remote interactions with mentor and colleagues) and/or teamwork (case studies, thematic workshops). Total student workload per Module is weighted out by the associated number of ECTS/USCTS. Student achievements of learning outcomes will be assessed and scored through lecturer's observations of individual assessments and examination at the very end of each Module.
At the beginning of the Program, students will be assigned for a minimum yearlong teamwork on a digital transformation or start-up Business Plan. Team members will be preselected and profiled accordingly relative to size and structure of the entire student generation. Thematic workshops (e.g. in Design Thinking) will be organized to help students and their teams address the real Business Plan challenges. Business Plans will be evaluated and reassessed continually through the course of the Program, submitted and pitched at the Investment Forum (in front of a group of actual investors) at the end of the first year.
As a proof of successful accomplishment of the entire e-Leadership MBA Program, students are required to design, submit and defend the final Master Thesis as an individual assignment at the end of the Program. Throughout this exercise, students will enjoy support and guidance of a Mentor, personally selected out of the preferred lecturing MBA Faculty members. Master Thesis will be prepared and shaped as a professional or scientific article ready to be published. With the successful defense of the Master Thesis and all other study Program requirements, students will be granted a Professional Specialist (Master) Diploma in Business Administration and promoted with MBA Title.
Learning outcomes of the individual modules and the entire MBA Program are aligned and made compatible with the curricular requirements and education standards defined by our International Partners: faculty from the Kelley School of Business (Indiana University, USA), the International Association of MBA (AMBA) and the European Commission (EU e-Skills, e-Leadership Program). Supported by reputable faculty members, this MBA Program will fully demonstrate its international dimension and provide bridges among disciplines, cultures and global expertise.
This e-Leadership MBA Program is entirely interdisciplinary and covers many differing but complementary areas like accounting, economics, finance, information systems, marketing, operations management, and strategy. Besides these fundamental MBA competencies available in most top-quality MBA programs, some of our MBA modules quite different in content, offering a comprehensive framework in technology, social media, business intelligence, design thinking, and leadership, following the key e-Leadership recommendations. Simultaneously, teaching methods will provide students with a matrix of horizontal (transversal) and vertical expertise approach to these areas by stimulating intensively creative individual and teamwork, divergent and convergent thinking.
This e-Leadership MBA program provides a hands-on approach to content and relies very much on lively and close, interactive and dynamic academy – business cooperation and knowledge transfer (scenarios/case studies). Theoretical knowledge of e-Leadership in current and emerging technology patterns is combined with real-life success and failure of digital business transformations or innovative start-ups business cases provided within the framework of our Digital Transformation Competence Center. The core MBA business knowledge is therefore well complemented with digital and leadership skills by the end of the two-year implementation of the Program.
During this MBA Program study, students will be also able to learn directly from experiences of the visiting top business executives and challenge their business concepts and strategies, expand their knowledge base as they navigate through the mind provoking and challenging coursework together with their peers from different disciplines, with whom they build trustworthy networks needed to successfully and responsibly lead enterprises in local and/or international markets.
DELIVERY
Program Calendar and Timetable for each MBA student generation will be planned per annum and published in advance, prior to the start of the Program delivery. Program for the new MBA student generation is scheduled to commence in late November every calendar year.
Typically, a Program Module is delivered through the two consecutive weekends. Extraordinarily, some Modules will be delivered through only one extended weekend. As a rule, there will be a three-week break in between the Modules. Reasonably extended brakes will apply during the winter and summer holiday seasons. Lectures on local public holidays will be avoided along the year. This delivery model allows students to minimize job leaves, incur no income loss and continue with professional and private life nearly commonly.
The typical timetable for a regular Module (lecturing contact hours):
Friday 17:00 – 21:00
Saturday 08:00 – 18:00
Sunday 09:00 – 15:00
The typical timetable for an extended weekend Module (lecturing contact hours):
Thursday 15:00 – 21:00
Friday 08:00 – 18:00
Saturday 08:00 – 18:00
Sunday 08:00 – 15:00
Program management will use its best effort to adhere to the plan and deliver modules according to the published Calendar and Timetable. In a case of force majeure, an unintended swap of module content or eventual module cancellation, we will work with the students to find the best possible alternative delivery solution.
Locations:
Most of the Program Modules lecturing will be delivered at our main MBA venue location:
Steve Jobs Auditorium, Algebra University College (University Campus), Ilica st. 242, Zagreb (Croatia)
As per Program Calendar/Timetable and Module syllabi, some of the lectures may be partially or entirely delivered at Off-Campus locations. To provide students with hands-on experience and to strengthen cooperation with our industry partners, some exercises and/or lectures will be organized at their local premises. At least once a year, a Module (one weekend) will be held at some inspiring and field-work empowering Off-Campus locations at the Adriatic coast (i.e. Zadar, Croatia) or abroad (i.e. Vienna, Austria).
Language:
All lectures, program study literature, authorized documentation and lecturer-student interactions are delivered in English, an official language of the entire e-Leadership MBA Program.
MODULES
Introduction to Leadership (MBA Requirements and Value)
Managerial Economics
Strategic Management
Operations Management
Financial Management
Critical Thinking & Creativity
Marketing and Sales Management
Financial & Managerial Accounting
Quantitative Methods
Project Management
Strategic Management of Technology and Innovation
Digital Transformation and Business Process Modeling
Information Systems in Modern Organizations
Entrepreneurship & Innovation
Managing and Leading People in Global Environment
Managing Information Risk and Security
IT Service Management
New Products Management
Business Plan (Design Thinking)
Master's Thesis (Mentored Project)
Last updated Dec 2017
About the School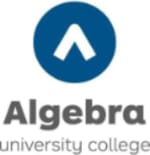 Based on the trends recognized in employment of IT qualified professionals through the analysis of employers' needs and based on analyzed characteristics of the labor market in Croatia, the project of ... Read More
Based on the trends recognized in employment of IT qualified professionals through the analysis of employers' needs and based on analyzed characteristics of the labor market in Croatia, the project of establishing Algebra University College was launched in 2006. The goal of the founders was to create a top quality professional higher education institution that was, along with its program, staff and teaching material, ready to meet the demands of employers and the labor market.
Read less