Master of Business Administration (MBA)
Home ›
MBA ›
Master of Business Administration (MBA)
Program Description
Achieve Your MBA in Just Over a Year
Earn the graduate degree that gives you the expertise and freedom to move across industries, locations and departments: a Master of Business Administration. Southern New Hampshire University is proud to offer an MBA specifically built for today's business needs. This high-quality degree program, which is offered during the day on our campus in Manchester, is one of the most affordable MBAs in the nation and can be completed in just over a year for students with a background in Business.
SNHU takes pride in providing you the best level of support, whether you're looking to enhance your current career, improve your ability to switch careers or ensure the success of your own business. Our MBA coursework by design is readily applicable to your real-world challenges. Develop projects that serve your business needs while simultaneously becoming a stronger, more capable leader.
Concentrations
Looking for a specialized MBA to help you stand out in a competitive marketplace? Consider one of the following concentrations:
Business Analytics
Delves into the three major areas of business analytics: descriptive analytics, predictive analytics and prescriptive analytics. You'll learn how to collect and interpret business data in a spreadsheet environment, communicate findings to stakeholders and execute strategic business decisions. Upon completion of this specialty track, you'll develop skills that can help prepare you for roles as a management analyst, operations research analyst and budget analyst.
Finance
Exposes students to the contemporary challenges of capital markets, investments and corporate finance. You'll examine topics related to commercial banking, short-term financing, financial risk management and portfolio structure. Upon graduating, you'll be prepared for a number of cross-industry career tracks, including commercial and investment banking, financial analysis and management analysis.
Marketing
Explores key advertising, branding and communications strategies. You'll learn how to analyze consumer behavior, develop data-driven marketing objectives and manage promotional campaigns that inspire action. This specialized program can help prepare you for a variety of leadership roles including brand management, product management, public relations, advertising and sales management.
Project Management
Analyzes effective managerial processes including the initiation, planning, execution and successful completion of a project. You'll cover topics including project scope, timing, cost, quality, risk, resources, communications and best practices to manage stakeholder expectations. You'll may also take a course that helps prepare you for the Project Management Professional (PMP)® exam – enhancing your marketability in the workforce.
Sport Business
Focuses on critical business concepts and how they relate to various aspects of the sport industry. You'll learn the ins and outs of sport licensing and strategic alliances, marketing and media and business analytics. Upon graduating, you'll have a better understanding of the industry, from teams, agencies and events to analytics, marketing, manufacturing, and intercollegiate and scholastic sports.
Last updated Oct 2020
About the School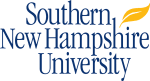 Expanding the Boundaries of Higher Education Southern New Hampshire University is a private, nonprofit, accredited institution with more than 3,000 on campus students, over 135,000 online students and ... Read More
Expanding the Boundaries of Higher Education Southern New Hampshire University is a private, nonprofit, accredited institution with more than 3,000 on campus students, over 135,000 online students and an alumni network of over 100,000, making it one of the fastest growing universities in the nation. Since its founding in 1932, the University has transformed from a school of accounting and secretarial science into an institution offering over 200 programs, from certificates to doctoral level degrees including business, education, liberal arts, social sciences and STEM. By reinventing higher education to fit the needs of today's students and workforce, SNHU ensures that students are keeping pace with new technologies and professional requirements. SNHU provides unparalleled support and service to help students achieve their dreams and transform their lives and the lives of those around them. SNHU is proud to offer you an exceptional student experience with nationally recognized academic programs.
Read less