Program Description
Anyone can do an MBA. However, few are participant-centered. Ours is one of the few and the only one in the region based on Babson's Unique Entrepreneurial Thought and Action (ETA) methodology, which allows students to "unleash their entrepreneurial potential" through participant-centered learning (PCL) and become agents of change.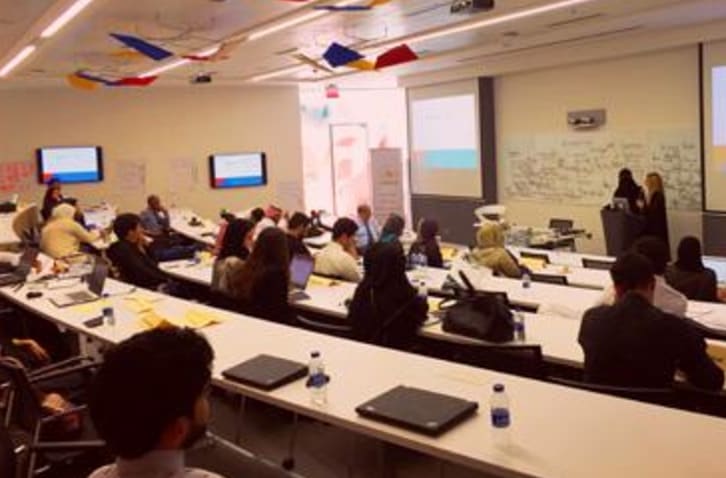 THE MBSC MBA DIFFERENCE
Designed through a Global Collaboration
Designed by Babson, the world leader in Entrepreneurship education, the program is closely adapted to the reality of the Kingdom by MBSC Faculty who are locally based, interact with and provide advice to the business community, and are actively involved in the creation and development of an entrepreneurial ecosystem in KAEC and the region. The MBA program in Saudi emulates Vision2030, which encourages entrepreneurial agency along with creating positive social impact
Action Learning Model
The MBA is designed to give participants the ability to balance business fundamentals with an entrepreneurial mindset and to be capable of overcoming the problems of uncertain, changing economic environments. Its core philosophy is Entrepreneurial Thought and Action (ETA), a teaching methodology trademarked by Babson. ETA helps participants overcome ambiguity and create economic and social value wherever they go.
Participant-Centered Learning (PCL)
At MBSC, we use a participant-centered methodology that puts the student at the center of the classroom activities. PCL allows participants acquire a unique set of skills (leadership, teamwork, global managerial skills, and others) through action and reflection. Participants learn both how to innovate and how to lead innovation, and not just about innovation.
Talented Business Oriented Faculty
Our faculty goes through rigorous training at Babson College. This exclusive training program allows faculty to adapt our curriculum and teaching style to the reality of the Kingdom and the region. In turn, this helps participants develop an ambidextrous thought process, learning to balance action and experimentation with rigorous analysis and a deep understanding of business fundamentals and to distinguish when a thought mode is more satisfactory than the other.
CORE CURRICULUM
The program is designed to provide you with advanced tools to understand and measure the performance of an organization, and a business project within that organization. Also, the core curriculum gives you the personal skills you need to adopt an entrepreneurial attitude and an entrepreneurial leadership style. This combination of hard skills (technical, for predictable environments) and soft skills (personal, ideal for uncertain environments) allows you to lead innovation that creates economic and social value. In addition, it provides training in interpersonal skills needed to adopt entrepreneurial thought and action.
SIGNATURE LEARNING EXPERIENCE
Based on Babson's unique method of Entrepreneurship Thought and Action (ETA), the MBSC MBA incorporates Signature Learning Experiences (SLEs) into the curriculum to develop entrepreneurial leaders. The SLE is an invitation to develop one's personal project and tests its feasibility in one of four domains: stand-alone entrepreneurship, social entrepreneurship, family business development, and corporate venturing. Each student chooses the domain of his/her preference and develops a realistic, feasible business that they are expected to launch, manage and grow.
MBA LEARNING GOALS
Deep Functional Knowledge of Discipline
Entrepreneurial Thought & Action (ETA®) and Critical Thinking
Values, Context, and Leadership in a diverse world
Reasoning and Communicating with Quantitative Methods and Technology
FLEXIBLE OPTIONS
Two formats have been designed to accommodate our student's needs and preferences, including their family obligation. No matter which of MBSC's two programs works best with your schedule and experience, you can be sure you're getting the same core curriculum from the same faculty that makes the MBSC MBA program a unique educational experience.
Full-Time MBA
Classes for the Full-Time MBA program start in September and you will complete your degree 15 months later in December. Students typically meet 4 days a week from Monday to Thursday. A typical day for Full-Time MBA students will include attending classes, meeting with groups to work on projects, participating in clubs and organizations you are part of, and connecting with other MBA students through elective courses and immersion projects.
Last updated May 2018
About the School

MBSC aims to develop a new generation of transformative leaders who think creatively and act boldly. The Kingdom needs more job creators and not just job consumers. MBSC is designed to fill this void ... Read More
MBSC aims to develop a new generation of transformative leaders who think creatively and act boldly. The Kingdom needs more job creators and not just job consumers. MBSC is designed to fill this void by creating Entrepreneurs of All Kinds (EAK®).
Read less