Exponential MBA and Master in Business Management and Administration
Home ›
Exponential MBA and Master in Business Management and Administration
Read more about this program on the institution's website
Program Description
The IESIDE Exponential MBA is the only official Exponential MBA in Spain that has guaranteed and paid internships. Among the professionals trained by the institution are executive cadres of leading companies such as the INDITEX group.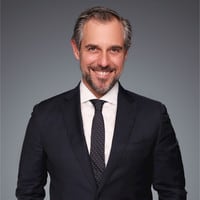 " I chose IESIDE to study the Double International Degree in Business Administration among many other options and with the passage of time I have verified that it was a great decision; the right decision. Without a doubt there were many knowledge and techniques that I acquired and that were the basis to enhance my professional career in its beginnings, but the most important thing is that I trained and developed my soft skills that have been fundamental in the development of my international career during all these years and that accompany me on a day-to-day basis: how to negotiate, speak in public , manage conflicts, motivate teams, but all on the basis that to be a good leader you have to be a good person above all. "
Yago Vera Cuartero - Director of Purchasing and Contracting at INDITEX.
Why the Exponential MBA?
The MBA is the best path of specialization to enter the business world, but why is our Exponential MBA your best option?
What are exponential organizations?
Exponential organizations are companies capable of growing and causing a much greater impact - exponentially greater - than their competition and they achieve this by applying disruptive solutions to their business models and implementing the most avant-garde technological developments.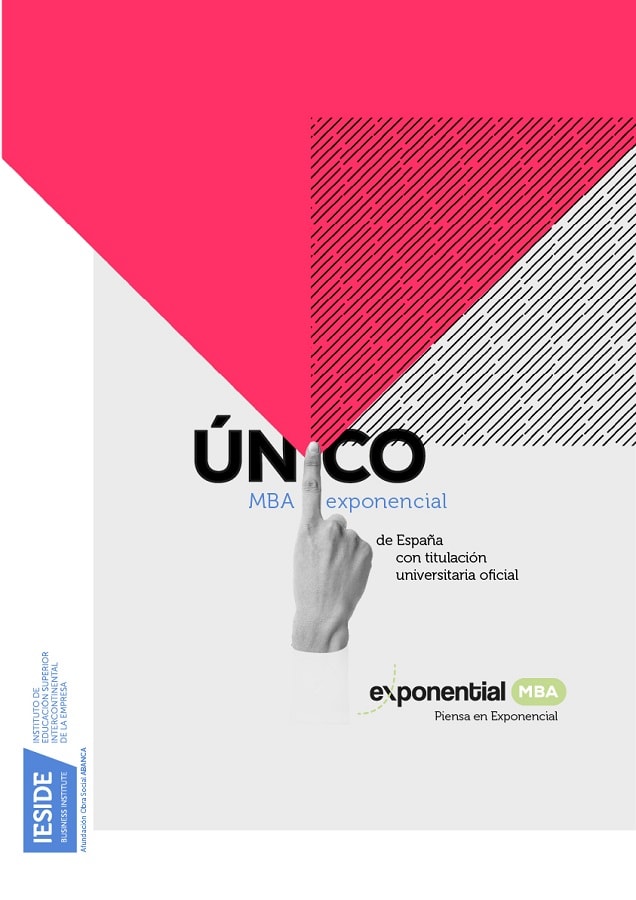 The 5 Reasons to study our Exponential MBA
1. Exponential MBA offers you four degrees
The IESIDE Exponential MBA is the only Exponential MBA with an official university degree. With it, you will obtain the Master's Degree in Business Administration and Management 1 in addition to the Superior Certificate in Exponential and Digital Business.
We will also strengthen your international profile with a stay at the Nova School of Business & Economics (NOVA SBE) in Lisbon, where you will obtain the From Creativity to Innovation Certificate, and with the Business English Certificate awarded by the University of Cambridge.
1Title issued by the University of Vigo, of which IESIDE is an Ascribed Center.
2. You will learn the keys to exponential management and digital environments
The companies that apply an exponential business model are the ones that are leading the world market.
In the Exponential MBA, through our Exponential Workshops, you will not only learn the bases of exponential management and innovation, but you will also apply them to real situations.
You will develop your digital thinking, both to enable the change from traditional to digital business models, and to create them on the technological basis.
You will also acquire the skills to manage technology and apply the key developments of this new era.
3. You will live the international experience IESIDE-NOVA SBE
The international stay in Lisbon has been designed to enrich your international vision, explore innovation and creativity techniques and discover new ways of undertaking. All this combined with sessions aimed at your personal development.
4. It will propel you to the job market
In the Exponential MBA you will acquire all the resources to face the selection processes through Professional Training.
In addition, as part of your preparation, you will join a paid internship program, with a minimum duration of 6 months.
5. You will join the IESIDE community
After more than 30 years of experience, 58 editions and more than 1,300 young people trained in the MBA, we have the experience and the solvency of being veterans, but also the ability to transform and reinvent ourselves to accompany companies.
At IESIDE learning is building the future together. And the future always starts today.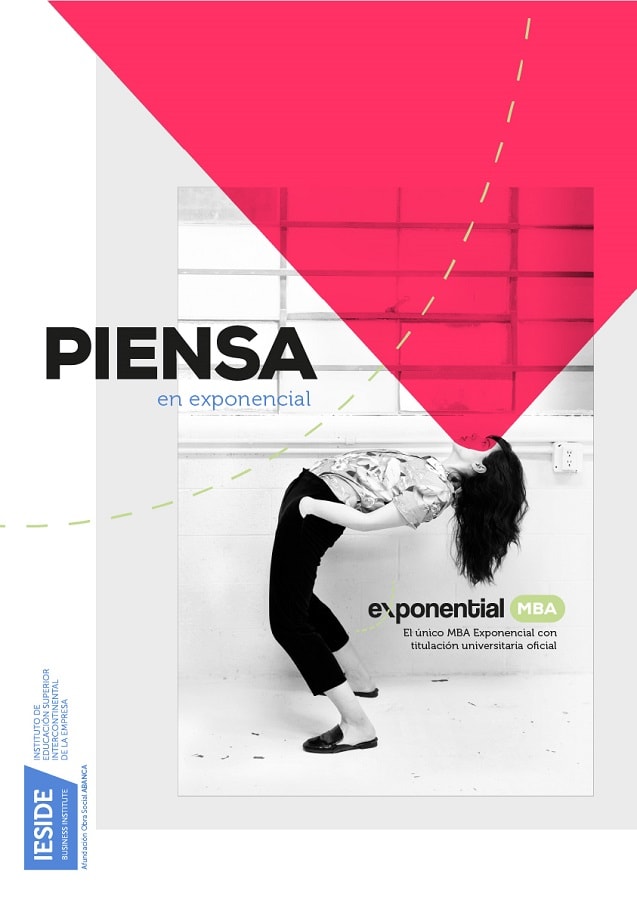 For whom?
The Exponential MBA is specially designed for recent university graduates who want to become solid, competent professionals prepared to be true agents of change in the business world.
Curious people, eager to learn and take on challenges, with the ability to adapt to changes, who know how to work as a team, committed and willing to live a process of transformation.
Young people driven by values and passion who do not think in a linear way, but dream exponentially.
The exponential MBA is for you if:
you have just graduated from university
you are moved by passion and the desire to transform the world
you like challenges and have an entrepreneurial attitude
you believe in teamwork, sharing your knowledge, ideas and talent while learning from others
you are looking for new answers and solutions and are willing to generate them out of the box
you take the risks of moving from ideas to action, responsibly
you make technology your ally, both to understand and take advantage of its potential and to apply it in the development of solutions
you don't think in a linear way, but you dream in exponential
The access requirements are:
Be in possession of an official Spanish university degree or equivalent if you submit your application from abroad.
English level A2.
The methodology
In the Exponential MBA you will learn from experience, going beyond theoretical concepts and we will teach you to work, how?
You will learn by doing
through the analysis and resolution of real cases, accompanied by a faculty made up of active professionals.
You will enhance your soft skills,
developing and putting into practice fundamental skills in exponential environments.
You will know, understand and develop in the digital ecosystem.
You will take the leap into the exponential world by applying the tools of this new methodology in real organizations.
You will think globally while you will experience an immersion in our business fabric through a program of visits and meetings with managers.
You will create your own business project
you will help an organization to carry out its strategic plan, putting knowledge into practice.
And all this in an environment for learning endowed with the most innovative educational technological resources, which guarantee the maximum use of the training sessions both in person and through the interactive virtual campus.
The program
Official Master's Degree in Business Management and Administration
Business environment
Management tools
Business management
Business management and leadership
Master's thesis
Internships in companies
Superior Certificate in Exponential and Digital Business
Exponential Workshops

Exponential Sessions
Exponential Transformation Lab

Digital Labs
From creativity to innovation. Stay at NOVA School of Business & Economics (Lisbon)
Innovation
Creativity
Social entrepreneurship
NOVA in the rankings: # 1 best-ranked school in Portugal, # 23 in Europe and # 44 worldwide.
Source: Financial Times, Executive Education Ranking, 2020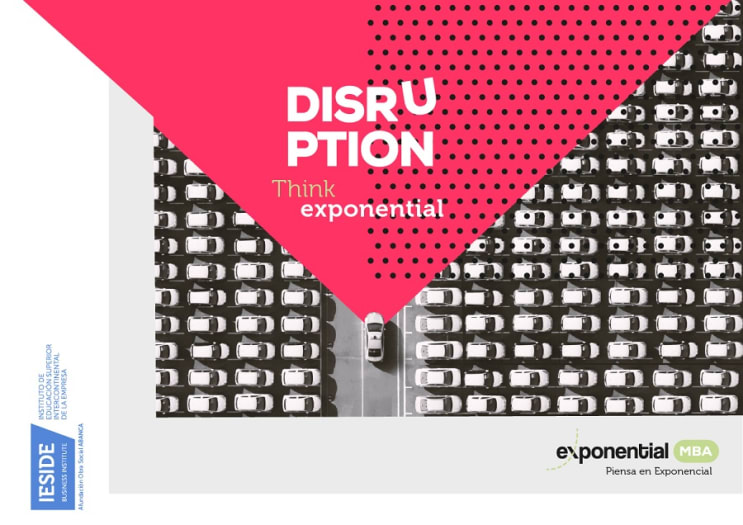 Admission
1. Start the admission process:
Enter our website www.ieside.edu and fill out the online admission form.
2. Submit the documentation:
DNI
Recent ID photo
College degree
Accreditation of official English qualification, if available
Updated curriculum vitae
Proof of payment of tests: € 100 * (non-refundable)
3. Take the admission tests:
Our expert selection consultant will make an appointment to perform the tests:
Work personality test
Personal interview
4. Communication of the result:
Within 15 days you will receive a response to your admission request and, if you have been admitted, the information on the steps to follow to formalize the reservation *.
* Admission to the program does not imply in any case the reservation of a place.
Scholarships and Financing
Scholarships
IESIDE, as a strategic project of the Afundación Higher Education Area, the ABANCA Social Work, is a non-profit university institution committed to excellence.
We believe in the development of talent as the basis for building a better society and that is why the IESIDE scholarship program aims to facilitate access to the Exponential MBA to those young people with the talent, the capacity for effort and the values demanded by the new exponential environment.
Furthermore, as it is an official university degree, Exponential MBA students may apply for scholarships of a public nature or from other institutions.
Financing
ABANCA can help you to study at IESIDE with a loan with excellent conditions so that you can become the professional you want to be.
The IESIDE Postgraduate loan grants you up to € 24,000 to pay for tuition and for your living expenses. This loan has an interest rate of 3.50% NIR the first year, and continues in the following years at a variable interest rate of Euribor + 3.50% NIR (3.91% APR).
The only commission you will pay for this IESIDE Postgraduate Loan is a 1% opening, but you will not pay a study commission. The formalization of the operation would not have any other added cost, although it could have some other financial expense, depending on your case. For example, if you need an endorsement or we consider it convenient to go to a notary's office.
* The financing conditions are established by ABANCA at the time of the formalization of the operation. Find out about all the details at abanca.com
Last updated Oct 2020
About the School
El Instituto de Educación Superior Intercontinental de la Empresa (IESIDE) es un centro universitario de ámbito internacional creado en 1987, cuya misión es la de ofrecer educación superior de calidad ... Read More
El Instituto de Educación Superior Intercontinental de la Empresa (IESIDE) es un centro universitario de ámbito internacional creado en 1987, cuya misión es la de ofrecer educación superior de calidad basada en la excelencia, la innovación y las nuevas tecnologías de aprendizaje que capacitan a los estudiantes como líderes del futuro.
Read less